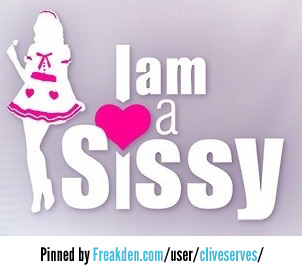 As you may have noticed, Sissification Fantasies are running rampant here at the den and practically everywhere adult site on the web.
Although this fantasy, fetish or whatever you want to call it has been around for an incredibly long time, it has only recently really started coming out of the closet.
For those of you who aren't sure what the hell I'm talking about, let me explain:
Sissification is the process of gradually turning a straight man into a feminized cross-dressing sissy.
How extreme it is taken or goes is up to those involved because that varies greatly. You may also heard of it only under the name — Feminization. These are basically one in the same. Now that you are up to speed lets take a look at some of the things that can take place in the realm of sissifying men.
Sissification Activities
Let it be known that these aren't things that everyone involved in this does but rather is a sample of things that certainly have and do take place just to give you an idea.
Sissification Training Activities
Being made to wear panties.
Getting locked into a chastity device.
Wearing women's clothing and lingerie.
Brainwashing and hypnosis.
Tease and denial.
Having to use dildos and butt-plugs.
What do you think? Do any of those things get your dick just a hopping around in your pants? If so, you know what that means!
But all jokes aside as you can probably imagine sissification can take on all sorts of different forms and fantasy types, ranging from being humiliation based to the full blown desire to become a cocksucker — that all depends on the guy involved.
So what do you think about sissification and feminization? Whether you are into it or not, let us know about your thoughts or experiences involving this naughty fantasy. Just wanting to see some hot sissy pics and videos? Check out all the Sissy Pins on the den!